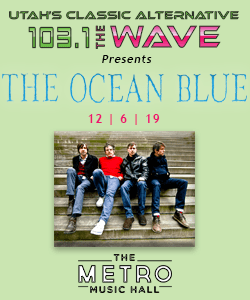 The Ocean Blue makes their triumphant return to Salt Lake City!
103.1 The Wave presents The Ocean Blue on December 6th at The Metro Music Hall and we have your chance to win tickets.
To score yourself some tickets just be listening for David from The Ocean Blue to prompt you to call and if you happen to be caller 7 you are going to the show on us.
Tickets for the general public will be available through Tickefly and at The Metro Music Hall.
Have your phone handy and be ready to call us at 844-407-TONY for yet more free tickets to The Ocean Blue from Utah's Classic Alternative 103.1 The Wave.